Wellesley Mazda Case Study
The Challenge
Wellesley Mazda spends a significant amount of money each month on marketing. After analyzing this spend they realized that a  large percentage goes towards serving ads to existing customers who just want their contact details. Like all dealership they give customers business cards, but these details never make it onto a customers phone. What they also found interesting is customers searching for their dealership were also served ads for competing dealers and so they risked losing this service business to their competitors.
The Solution
KeynectUp was able to deliver a solution to Wellesley Mazda that would deliver their key contact information to their customers phones. The solution was used to deliver cards in two particular areas, Service and New Car Sales. In service it made it easier not only for customers to contact the service department, but also it made it easier for the service advisors to get a hold of customers as they now know who is calling them. With New Car Sales, the customer leaves the dealership with all the important links they need to get back in touch with the car the dealership.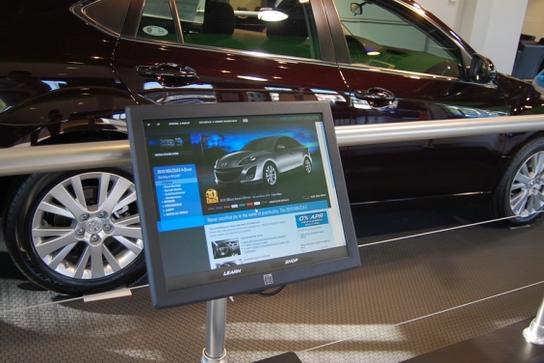 The Shaker Automotive Group is entering its eighth decade of service. Our original dealership in Waterbury, CT grew out of our grandfather's repair shop, which he started after fixing trucks at the local Farmer's Market.
Since then, we've expanded across New England with dealerships in Connecticut and Massachusetts. Regardless of which Shaker dealership you choose, you'll enjoy the same transparent experience in each one.
We've never done business any other way.
KeynectUp cards made it easier for customers to contact their dealer.
Deployment
Easy to deploy, with little or no ongoing maintenance. No special IT Skills required.
Local Information
The most important information your customers need is right on their phone. Roadside Assistance, quick links to book a service or order parts.
Stand Above the crowd
People will see your brand everyday, making it easier for increased referrals and customer callbacks. Improves the effectiveness of your other marketing efforts.
Wellesley Mazda saves over $2000k a month in marketing costs with KeynectUp.
In this video Joe Shaker of the Shaker Autogroup explains how KeynectUp reduces their marketing costs by at least $2000 per month.
"KeynectUp makes it easier for my customers to contact my stores", Joe Shaker, Shaker Autogroup